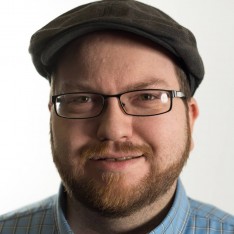 Chris
Powers
Social Media Marketing Specialist
Email:
cpowers1980@gmail.com
I am a designer, social media marketing specialist, web developer, and layout artist. I was the Web Editor and Layout Editor at The Collegiate, Grand Rapids Community College's student newspaper. I currently tutor in the open computer lab on campus. I am seeking my Bachelor's Degree in Computer Information Systems from Ferris State University on the Grand Rapids campus.
Education
Bachelor's of Arts, Computer Information Systems
Grand Rapids Community College
Associate of Arts
Associate of Arts, 2016
Web Tech Support Certificate, 2012
Web Design & Development Certificate, 2012
Dean's List
Catholic Central High School
Grand Rapids, MI
Experience
Pastry Team USA
Social Media Marketing Specialist
Manage social media content for the United States team for the World Pastry Cup (Coupe du Monde de la Pâtisserie). Take and post pictures at events, develop strategy to drive traffic to the website, write press release-style copy for website.
Grand Rapids Community College
Open Computer Lab Student Tutor
Tutor one-on-one and drop-in students in a variety of computer-related subjects including web design, web applications, database design and development, Adobe Creative Cloud, Microsoft Office, and Windows 7 and 10.
September 2012 -
May 2016
The Collegiate
Web Editor/Page Designer
As Web Editor, overhauled website for Grand Rapids Community College's student newspaper to new template, updating colors to match school's website, promoting increase of social media and overall web savvy to other student leaders. Provide first line tech support and training for staff. Lead Page Designer for print newspaper and end of semester magazine including managing other designers. Write technology and political articles as desired.
Wikia, Inc.
Volunteer Administrator
Helped build community from scratch using social media, message boards and other viral marketing. Wrote or co-wrote the first versions of over 150 pages including several community guidelines. Created or adapted many of the templates that are in use on the site. Created identity package, including color scheme, logo and other design elements.
Boy Scouts of America
Volunteer leader
Assistant Scoutmaster           1998-2006
Scoutmaster                                 2006-2008
Contact info
Email
cpowers1980@gmail.com